VietNamNet Bridge – Starting to pursue an art dream at the age of 31 two years ago, Nguyen Trung Nghia has crafted his own path in local and international projects through images and voices of wild life in his paintings.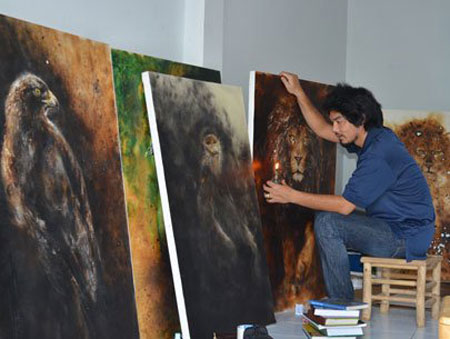 Artist Nguyen Trung Nghia at work in his studio in HCMC's Go Vap District.
Born 1981 in the Central Highways province of Daklak, Nghia remembers his childhood on sunny days close to the wild world of flocks of birds, endless forests, ponderous elephants, mischievous monkeys, clever gibbons and smart dogs and cats.
Having finished his study at HCMC University of Architecture, Nghia tried to become one of the nouveau riche with a widespread urbanite dream of wearing swanky suits, living in a luxury apartment and riding a high-end car. He chose to work as an events manager, music composer and many other jobs to earn as much money as he could.
However, two years ago when Nghia thought he had passed haft of his life, his dream of becoming an artist during his childhood flashed back. Nghia quit his job and started to think seriously what to do next. "Through some ups and downs, I realized everyone has their own dream but I tried to leave my dream behind to chase others' dreams," he said. "I knew I chased down frivolity with all stresses and ambitions, but I decided to take a step back to live a life I truly want."
He said he is not an urban guy but a "jungle" type.
Nghia traveled to Japan and visited many museums and galleries in Tokyo and Osaka to figure out his own way of life. "I feel so blessed when Japanese people preserve nature and culture so well, I felt heartbroken when I recalled the horrible scenes in my hometown when people hunted and killed wild animals and even deforested," said Nghia. With a strong urge from his heart, Nghia came back to HCMC and started to depict animals from birds to gibbon, tiger, lion and deer to raise public awareness of wild life protection.
Unlike many contemporary artists, Nghia uses smoke, fire and sulfur to form and depict images of animals in a natural way. Smoke, fire stains and even unexpected holes on the burned paper become perfect effects to make visitors sense the difference in his style and the strong call of the wild.
"Materials and techniques are just the means to convey thoughts and creativeness of an artist. I don't say my material is strange, new or better than others, but to me, it is the best one to tell my childhood stories about the wild," Nghia added.
Hiring a large apartment in Go Vap District to set up a studio, Nghia now is absorbed in making arts. "I am working like a normal worker but with a liberal mind of an artist. I am totally living in my endless creativeness and my true dream and I am happy when my works are appreciated by local and foreign art galleries and collectors," Nghia said.
For Nghia, art is a destiny which he says he will convert into improvised songs.
Source: SGT