VietNamNet Bridge – Around 50 artworks by Vu Dung, Tran Hong Suong, Vo Vu Thuy Linh and Vo Cao Dinh on Monday came on display at HCMC Fine Arts Association, bringing varied tastes for visitors with different themes, styles and materials.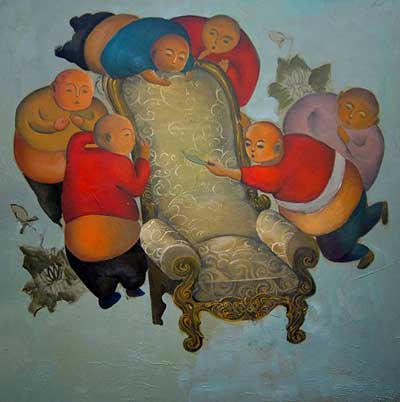 A work by Vu Dung on display at HCMC Fine Arts Association in District 3.
Dung depicts peaceful landscapes of the Vietnamese countryside with colorful trees, ladies in traditional costumes, romantic settings in rivers and immense rice fields. Dung also expresses his anger at soulless people who have no thoughts for those around them as they indulge in high-tech devices and the virtual world on the internet.
Suong shows his love for women's beauty with beautiful faces of girls made in illustration-style with very careful and meticulous lines. Meanwhile, Linh reveals her strong character via images of horses, symbolizing freedom and a desire to overcome and escape from the tough present.
Cao Dinh gives a glimpse on the hardship of the poor in urban areas. Meanwhile, he also depicts the cycle of birth–aging–disease–death.
The show runs till August 14 at the association, 218A Pasteur Street in District 3.
Source: SGT