VietNamNet Bridge – Art lovers in Hanoi have the opportunity to admire paintings and installation works of the leading visual artist in Vietnam–Nguyen Manh Hung, in the exhibition titled "One Planet."
VietNamNet Bridge – Art lovers in Hanoi have the opportunity to admire paintings and installation works of the leading visual artist in Vietnam–Nguyen Manh Hung, in the exhibition titled "One Planet."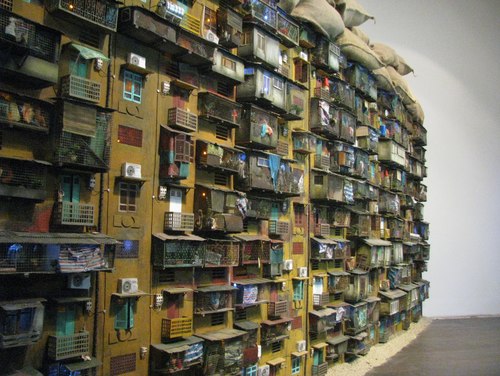 "Stronghold"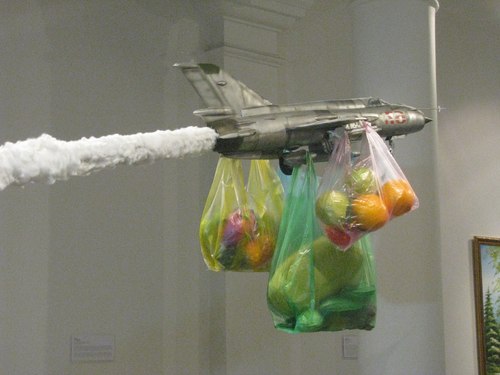 A fighter plane carries fruit.
The exhibition featuring two installation artworks named "Going to the market" and "Stronghold," and the series of paintings "We've been here " is held at Manzi Art Space (14 Phan Huy Ich, Hanoi) until July 28. The installation works are the expansion from the previous two-dimensional works of Hung.
'"One Planet" features Hung's new sculptural installations which was on show in Ho Chi Minh City early this year and a series of paintings which the artist himself refers to as 'Mauvais Gout' (bad taste) entitled "We've been here."
Drawing from his own personal history growing up in a cramped Soviet style apartment block in Hanoi, Hung reflects on the idea of community, the conflicts that exist within and without constructed societies, and the complexities of civic development and individual responsibility. How is a community defined? Is the traditional idea of community just hollow rhetoric or an ideal that can evolve and adapt to modern day Vietnam? Hung confronts these issues with his trademark irony and humor highlighting the oftentimes absurdity of human behavior and endeavor.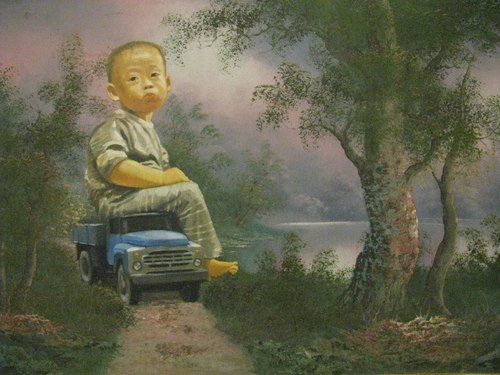 A painting in the series "We've been here".
"When I make art I often use factors that relate to my family's past as starting points. These factors contain and reflect both the history of my country, and its consequences," Hung said.
Born in Hanoi in 1976, known as one of the most important contemporary artists in Vietnam, Hung has exhibited in a number of regional and international exhibitions.
His diorama Living in Paradise is currently being featured in the 7th Asia Pacific Triennial of Contemporary Art at the Queensland Art Gallery | Gallery of Modern Art in Brisbane, Australia.
PV