I became interested in art because for a long time, drawing and painting were the primary mediums through which I felt most comfortable communicating. This was especially true when my family first moved to the United States from Vietnam, when I was seven years old.I always excelled at drawing; the ability to impress my classmates by ably emulating a Disney cartoon character with pencil and paper held a special magic for me, and enabled me to make new friends. As a shy bookworm, I yearned to connect with my peers, but felt a lot of trepidation articulating my thoughts. I worried about making a fool of myself. My artwork enabled me to feel represented in a subtle but impactful manner.As I grew up, my ability to create art distinguished me from my peers. It made me feel powerful and special, unique and sophisticated, and most importantly, it allowed me to create different (imagined) realities than the one in which my immigrant family existed. In my artwork. I dwelled in imaginary worlds, full of strong-willed princesses who rode on magnificent steeds and saved their princes from roaring dragons. I also enjoyed re-creating my favorite cartoons: Tintin, Superwoman, Batman, the Smurfs, Asterix and Obelix, Garfield, and of course, my all-time favorite, Calvin and Hobbes.
'Resplendent Flight' by Quyen Truong
Art not only led me into books and imaginary worlds, it exposed me to new communities and helped me explore worlds beyond my neighborhood. In high school, I participated in a Hartford-based summer arts program called "Neighborhood Studios." Funded by the efforts of the Greater Hartford Arts Council, the program was the brainchild of Faithlyn Johnson, who modeled the program after Gallery 37 in Chicago. Neighborhood Studios employed local artists and aspiring teen artists to learn about and create art in a variety of disciplines. The program afforded me the opportunity to indulge in my passion, and be paid for my efforts. For the first time, my interest in fine arts was legitimized. The idea that I could earn money towards my family's income by doing what I love completely altered my world view. In addition, meeting adults who made a living with their craft, and developing friendships with other artistic teens exposed me to a completely different kind of community altogether. In all, the experience helped me understand the kind of network I need to support my dream. Finally, the fact that we created murals to beautify the city of Hartford heralded a burgeoning interest in using my artwork to leave a positive mark upon "our" city. Neighborhood Studios sparked my long-term interest and investment in community-development and teen arts programs.
Since then, I've worked for various teen arts programs, studied museum education via a fellowship at the Rhode Island School of Design, helped start an arts enterprise program for teens in Woonsocket, Rhode Island, and, after college, worked for Artists For Humanity in Boston for almost 6 years. Currently, I am considering ways to build a network of youth arts/business programs that can work in tandem with public schools to offer teens appropriate (wrap-around) multi-tiered mentorship and educational support. The end goal is to offer teens meaningful opportunities to make intentional, informed choices in regards to their lives, for the benefit of our local communities.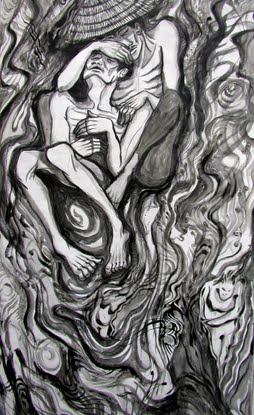 "Nightmare" by Quyen Truong
What does my journey have to do with art and social justice, or about being "art-smart"? I think art is its own form of social justice. I read somewhere that teens self-actualize by testing relationships around them (Nakkula and Toshalis?). In tandem with teachers, mentors, family members, and friends, our young people intensely engage is the all-consuming process of identity-formation. How we choose to respond to that energy inherently shapes the spaces around which these teens mold the core of who they become. We all, to a large extent, for better or for worse, affect those who surround us on a daily basis. It's easy to follow the herd, to do as we are told, to respect authority and inhibit natural impulses and step in line. And it's easy to be a rebel, indulge in our id, rail against the patriarchy/norm/authority, and be completely subversive. What's difficult is finding a happy medium, so that we challenge ourselves and others around us to expand our worldviews in a peaceful, compassionate manner, replete with mutual respect.
Pages: 1 2